The project: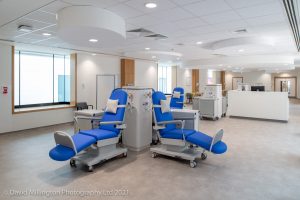 Cancer services in Carlisle were spread out on different parts of the Cumberland Infirmary site – meaning the patient experience was poor, and staff time was taken up escorting people to different buildings. The environment on the whole was considered out-dated; the ambition was to realign treatment under one roof, improving facilities and conditions for staff, patients, carers and their relatives.
Newcastle upon Tyne Hospitals NHS Foundation Trust (NuTH) commissioned the new facility on the site of the Cumberland Infirmary, Carlisle, to complement the award-winning facilities at the Freeman Hospital, Newcastle. NuTH's oncology services are operated in partnership with North Cumbria Integrated Care NHS Foundation Trust (NCIC) in the new building at Carlisle. 
The collaborative partnership has introduced a range of facilities new to Cumbria, including: 
 

A chemotherapy day unit with 15 treatment chairs and three single treatment rooms

 

Two Linear Accelerator (LINAC) Radiotherapy machines

 

A CT scanner suite

 

Consultation, examination rooms and a café area

 

Multipurpose rooms for complementary therapies and patient support.

 
Patient and community benefits: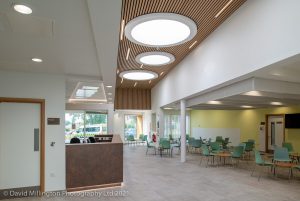 Bringing all of the Cumberland Infirmary's non-surgical oncology services into one building means that patients no longer have to move around the hospital site to receive chemotherapy and radiotherapy treatment. The capacity for cancer treatment has doubled here, meaning the Trusts' abilities to deliver high quality, clinically safe and sustainable cancer services are greatly enhanced. 
The replacement of a sixty-year-old HV ring main has allowed NCIC to install an additional transformer, leading to the installation of a second CT and MRI within the main hospital, further benefiting other patients.  
Our challenges: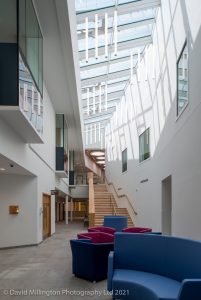 Demolition: The Northern Centre for Cancer Care was built on the site of an old tower block, within the existing live acute hospital site adjacent to the main blue-light routes. Commencing demolition, unknown services were discovered – then identified as medical gas alarms. They were rerouted and reconnected with no disruption to any hospital services. 
The VIE plant was also protected by the erection of a 'birdcage' to ensure no demolition could harm the hospital's key services. 
Coronavirus: Supply and travel restrictions presented some considerable challenges during the build. At the very start of lockdown, CCL facilitated the agreement that all COVID related costs and risks would be shared 50:50 between the contractor and the client, and that procurement would be more flexible. Robust communication measures with suppliers enabled all parties to navigate its way through staff and supply shortages emanating from the lockdown restrictions and innovative solutions to programme management meant all parties could work round delays. 
Our successes:
The client was able to have early access to the building, thereby facilitating the advanced installation of equipment: practical completion was achieved exactly on time on 21

st

May 2021, with a partial opening in July and full clinical occupation and operation following three weeks ahead of programme in early September.

 

The project was brought in under budget by £650k.

Zero defects were identified.
Key details:
CCL's Project and Programme management: Outline Business Case, Full Business Case, Enabling, Construction, Fit-Out, Completion and Close-Out
Clients: Newcastle upon Tyne Hospitals NHS Foundation Trust (NuTH) and North Cumbria Integrated Care NHS Foundation Trust (NCIC). 
Project value: £34.5m, including £18.5m construction utilising PCSP and NEC3 contracts
Key CCL staff:
Linsey Brown, Senior Project Manager
Ryan Wilkie, Project Manager
If you would like further information, please contact us here.